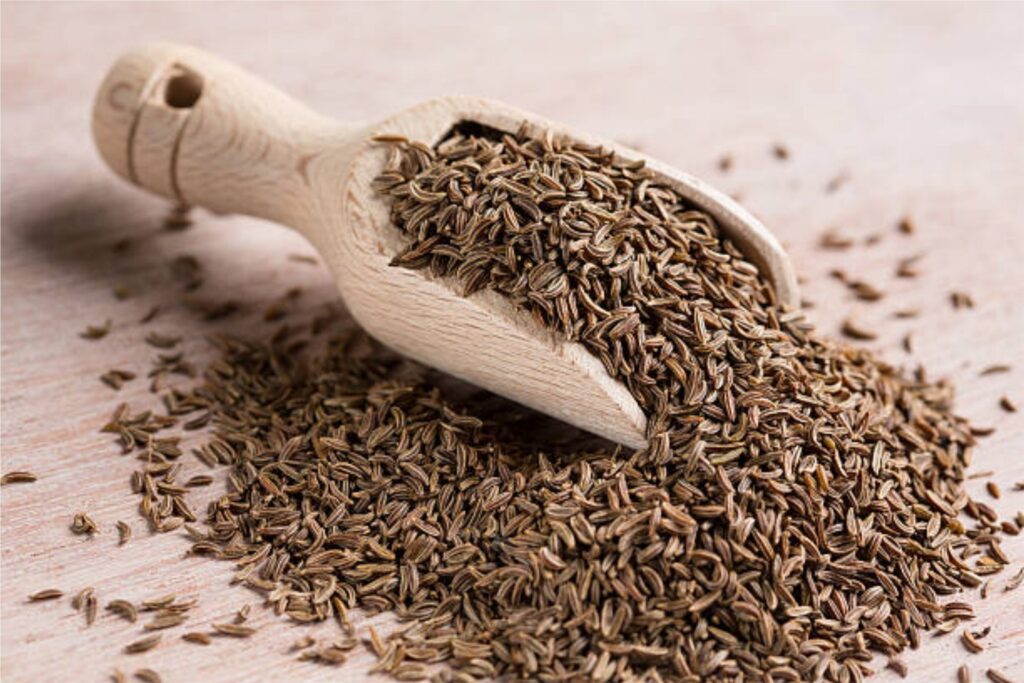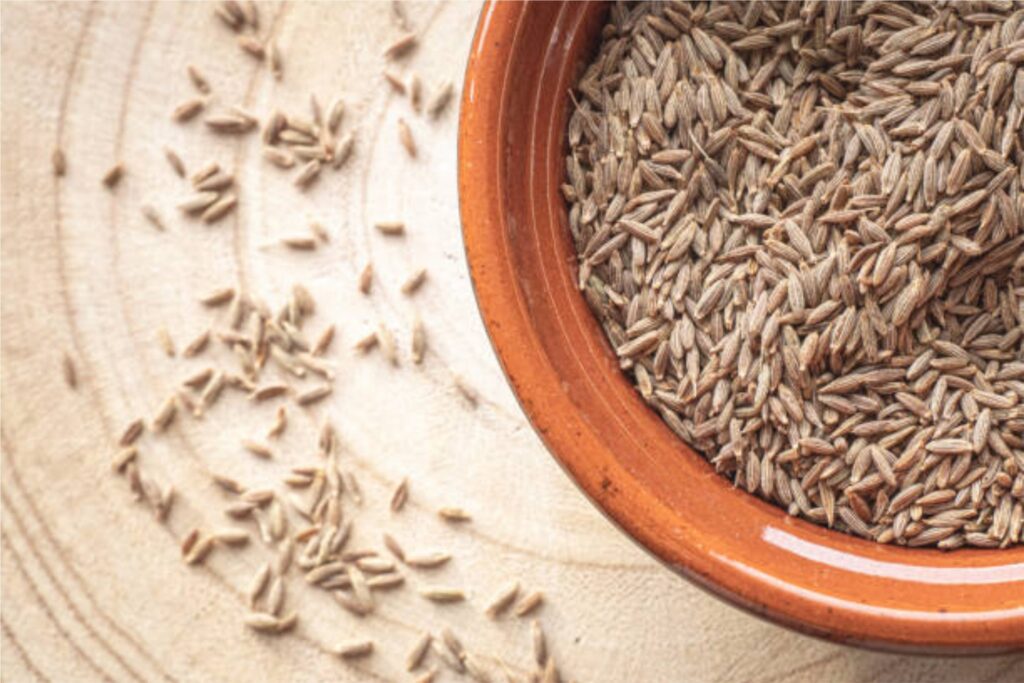 DESCRIPTION
Cumin is the dried, white fruit with greyish brown colour of a small slender annual herb. The surface of the fruit has 5 primary ridges, alternatively has 4 less distinct secondary ridges bearing numerous short hairs. The plant is 15 to 50 cm high. The aromatic seed like fruit is elongated, ovoid, 3 to 6 mm long, slightly bitter and has a warm flavour. The flowers are white or rose coloured in small umbels.
USES
Cumin seed have an aromatic odour and bitter taste. It is used as a condiment, and is an ingredient in curry powders, seasonings of breads, cakes and cheese. It is employed in native dishes of Central and South America. In medicine, it is used as a stimulant, carminative, stomachic and astringent. Cumin seed oil is used in perfumery and for flavouring liqueurs and cordials.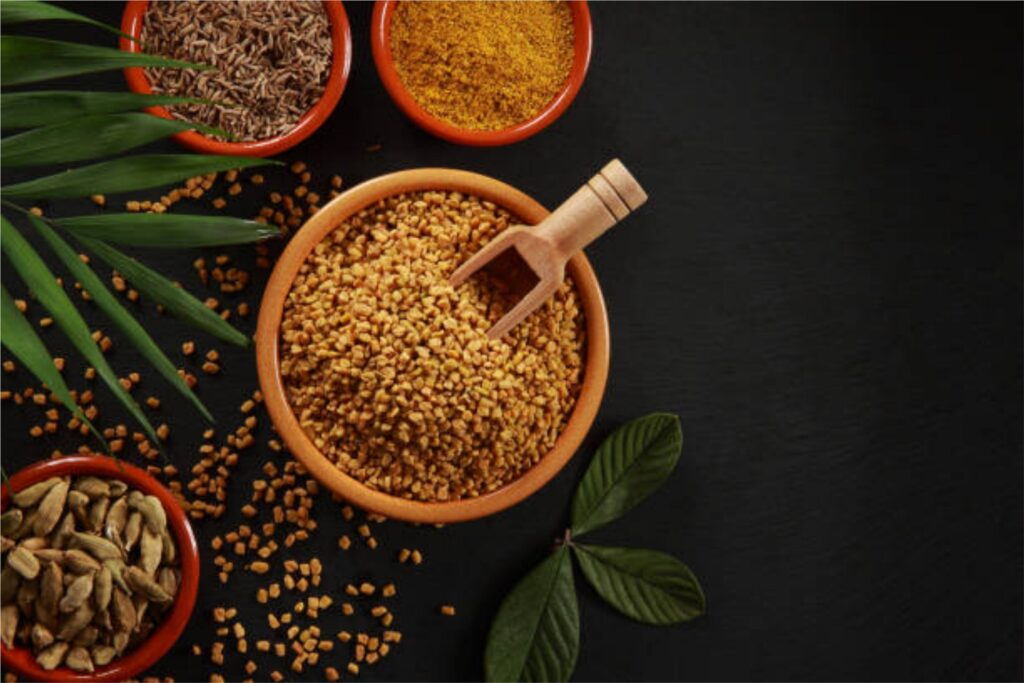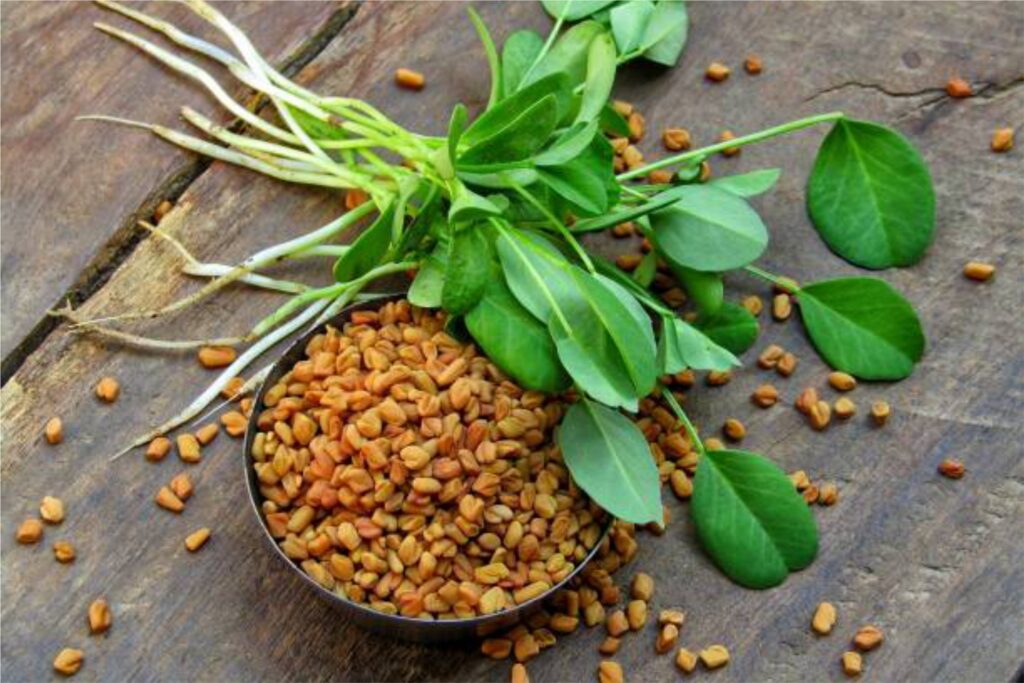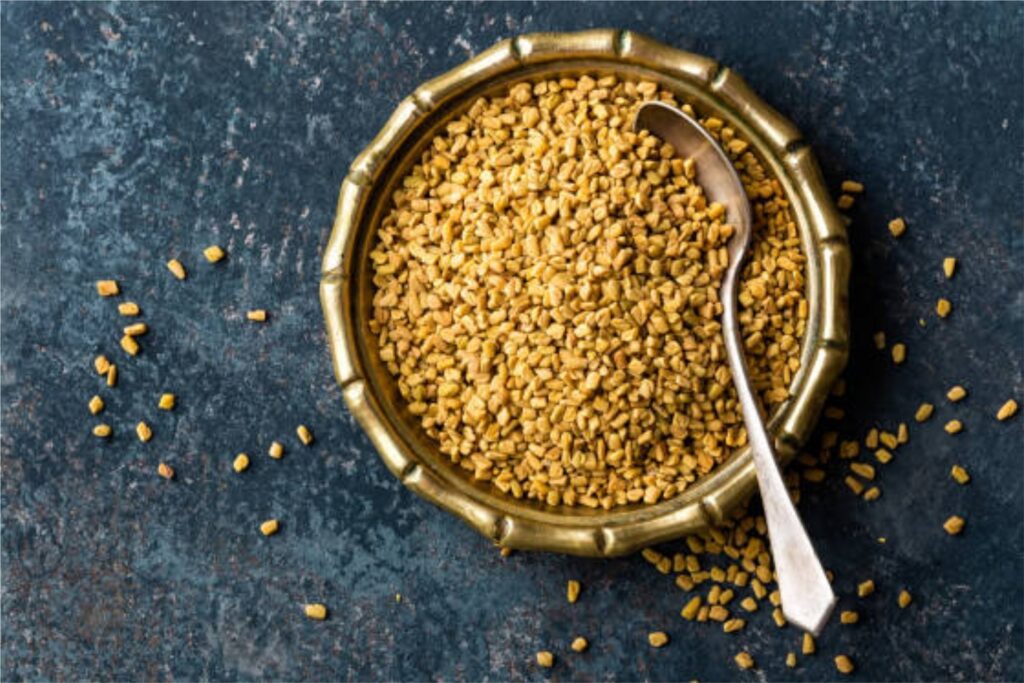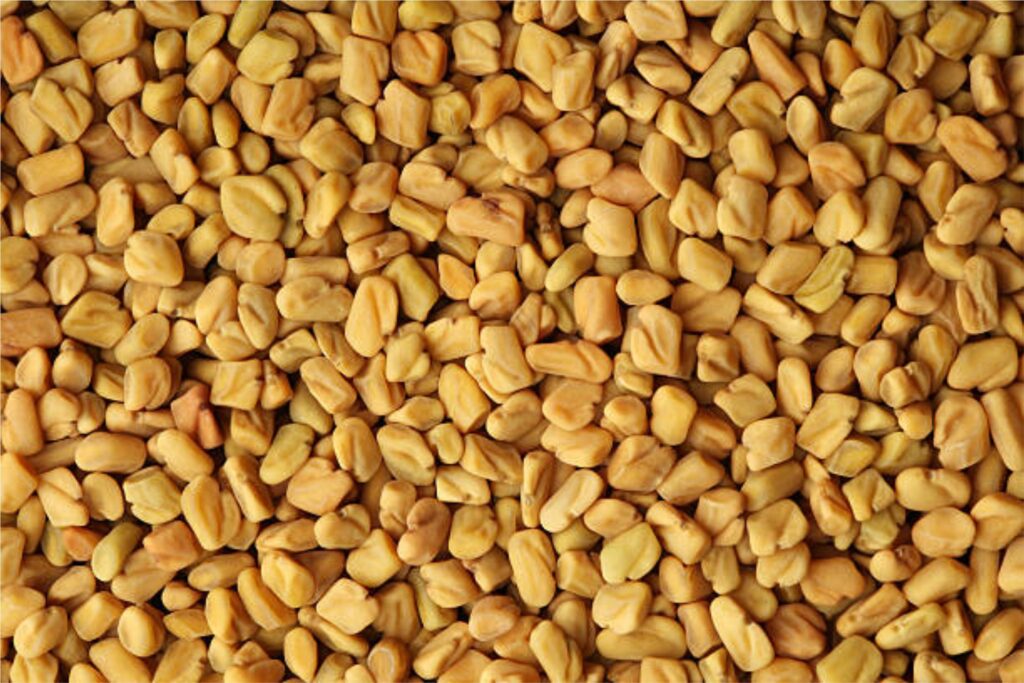 DESCRIPTION
Fenugreek seed is the ripe fruit of an annual herb. This robust herb has light green leaves, is 30-60 cm tall and produces slender, beaked pods, 10-15 cm long, each pod contains 10-20 small hard yellowish brown seeds, which are smooth and oblong, about 3mm long, each grooved across one corner, giving them a hooked appearance. 
USES
Fenugreek is used both as a food and food additive as well as in medicines. Fresh tender pods, leaves and shoots are eaten as curried vegetable. As a spice, it flavours food. Powder of dried leaves is also used for garnishing and flavouring variety of food. Fenugreek extract is used as a flavouring agent of imitation maple syrup. It is one of the principle constituent of curry powder. The seeds are used in colic flatulence, dysentery, diarrhoea, dyspepsia, chronic cough and enlargement of liver and spleen, rickets, gout and diabetes. It is also used as a carminative, tonic, and aphrodisiac. Fenugreek oil is used in the manufacture of hair tonics.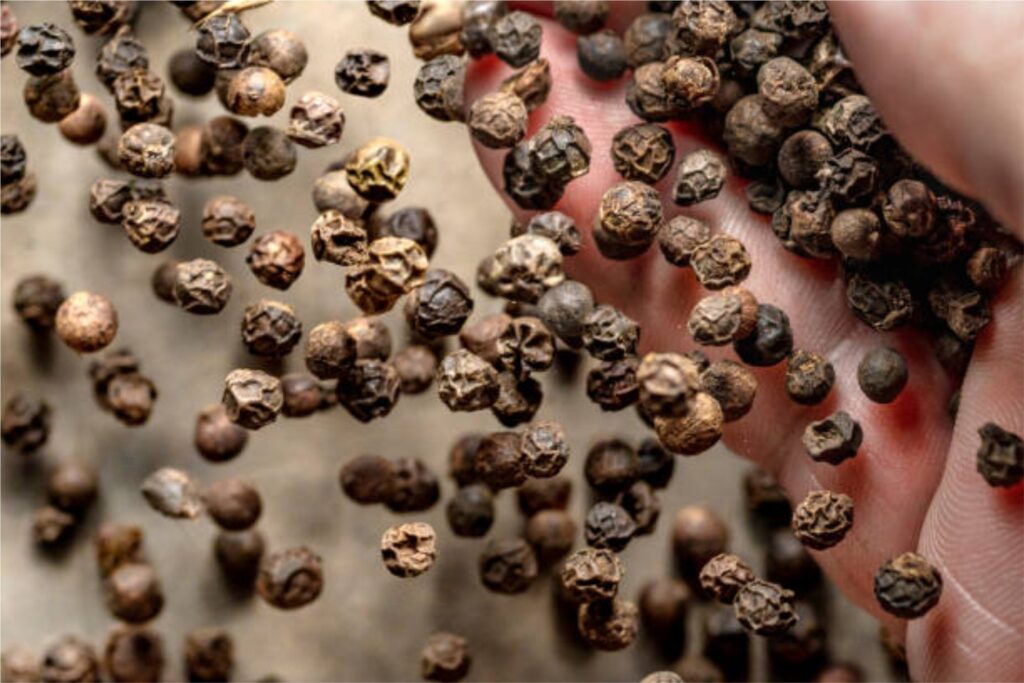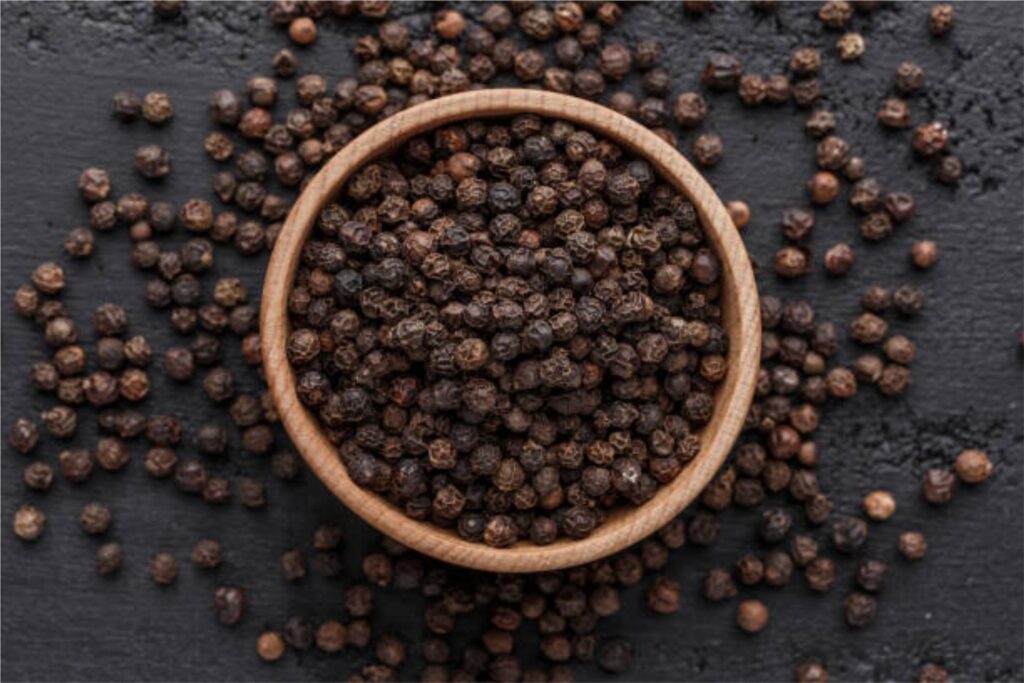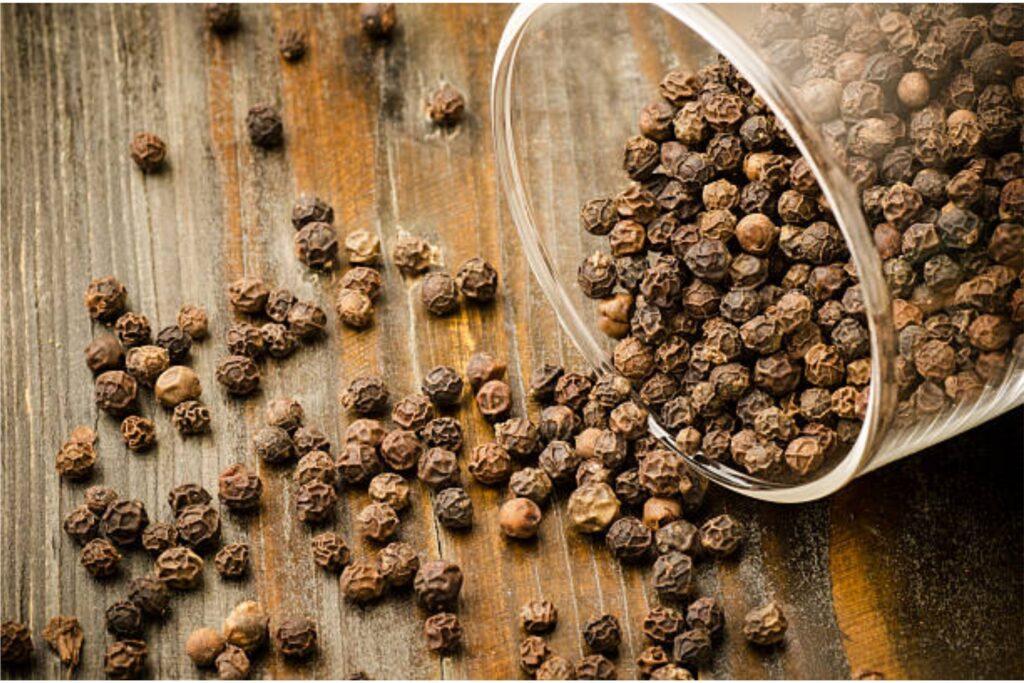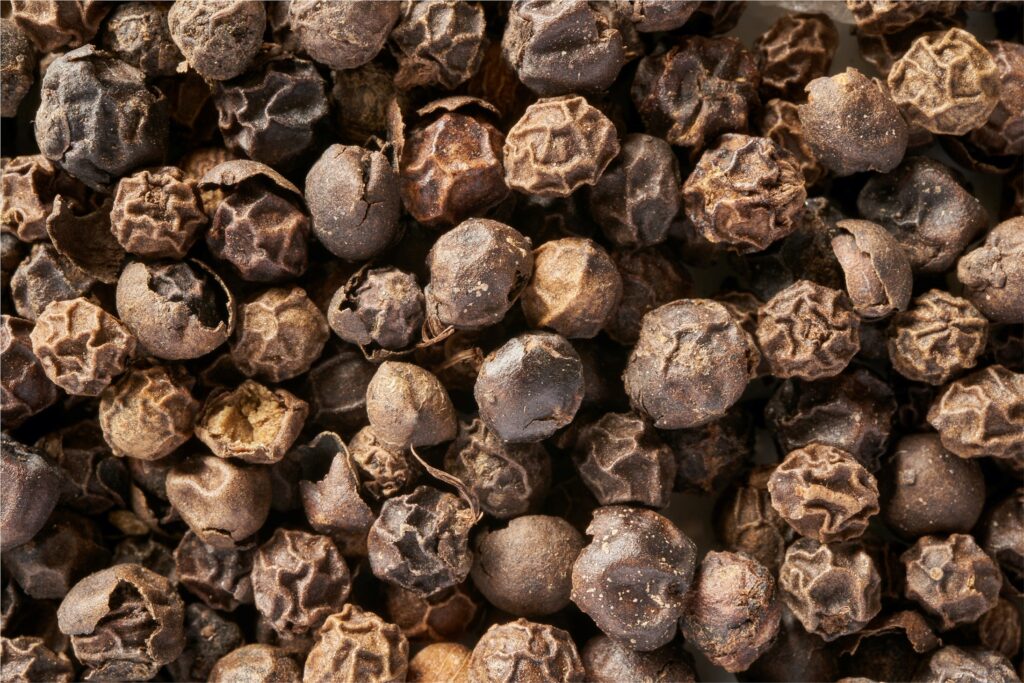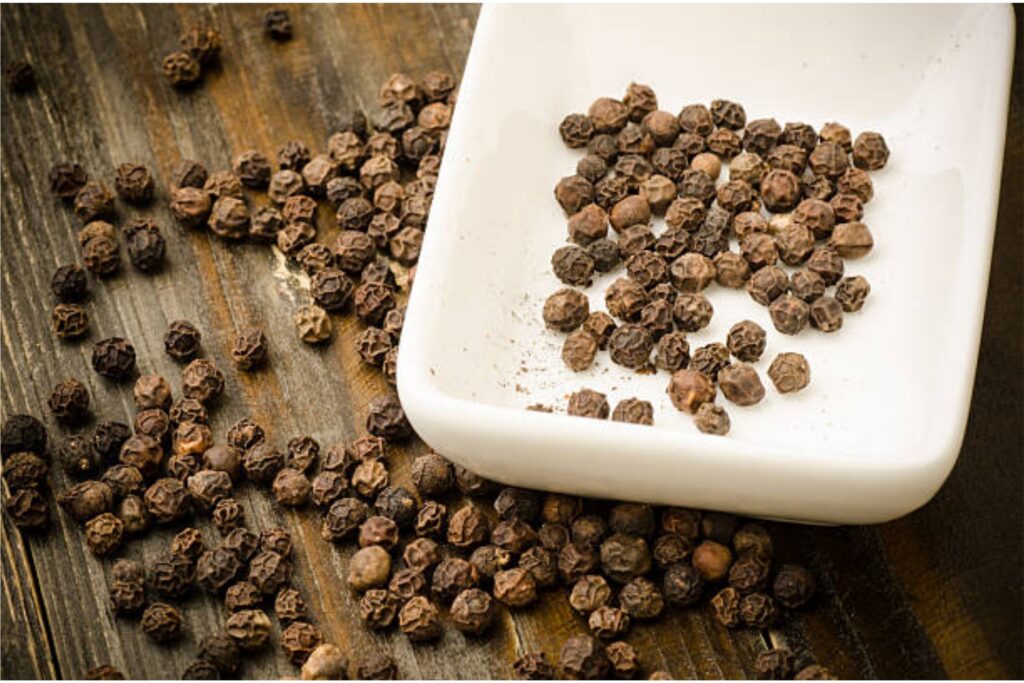 DESCRIPTION
Black Pepper is the dried mature berry of Piper nigrum, a climbing, perennial shrub mostly found in hot, moist region of Southern India. Under cultivation pepper vines are trailed over support as columns, 5-6 mtr tall, 1-2 meter diameter. The climbing woody stems have swollen nods with clinging roots at each node, which helps in anchoring the vine to the support trees (standards). It has straight upward growing main stem and have lateral shoots from the axils of the leaves having shorter inter nodes without adventitious roots. In such branches the terminal buds get modified into an inflorescence (spike) and the auxiliary buds continue further growth.
The root system confined to 75-100 cm radius and depth. The inflorescence is a pendent spike, 3-15 cm long with 50-150 flowers. Flowers are minute, white pale yellow, arranged spirally on fleshy pedantries. The specie is naturally self-pollinated and pollen dispersal is aided by the presence of water droplets. Fruit is a single seeded drupe often called berry. It is spherical in shape, green in colour, changing to red on ripping.
USES
Pepper is largely used by meat packers and in canning, pickling, baking, considering for its preservative value. It has the ability to correct the seasoning of dishes, therefore used as a final dash at the end of cooking to effectively adjust the flavour. It is an important component of culinary seasoning of universal use and is an essential ingredient of numerous commercial foodstuffs. It is also used as an ingredient in spice mixes. White pepper is used in products like mayonnaise where, black specks of black pepper is not liked. Other products in use are pepper oil, oleoresin, micro encapsulated pepper, green pepper in brine, dehydrated green pepper, frozen pepper etc. Black pepper is an essential ingredient in Indian system of medicine. Piperine, the pungent principle in pepper oleoresin helps to enhance bio-availability and therefore used in pharmaceuticals. The major functional properties of pepper are analgesic, anti-pyretic, anti-oxidant and anti-microbial.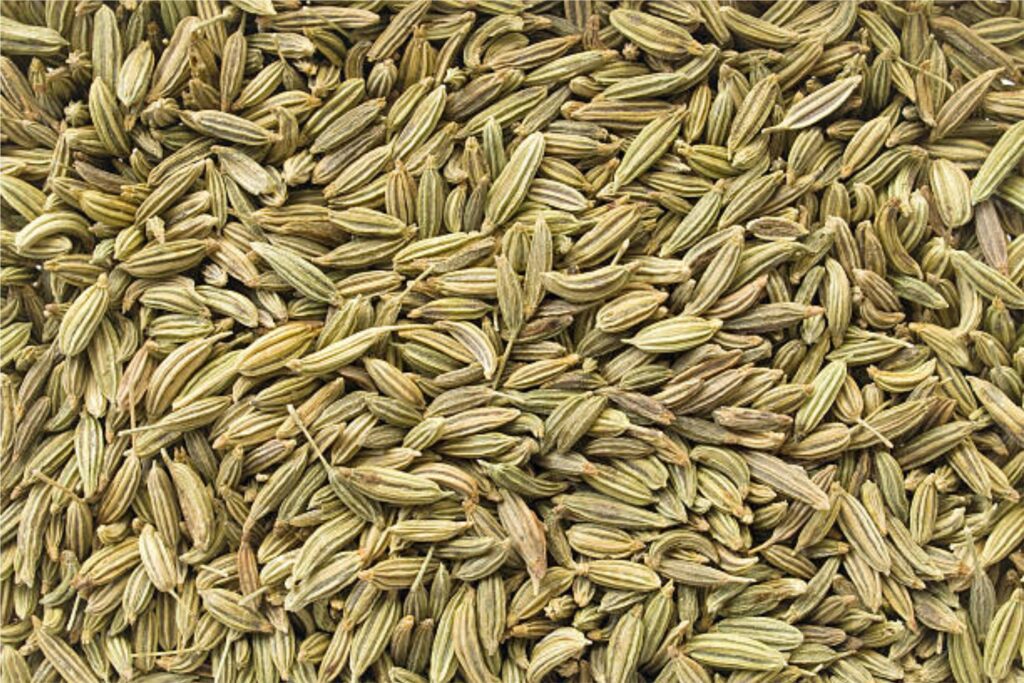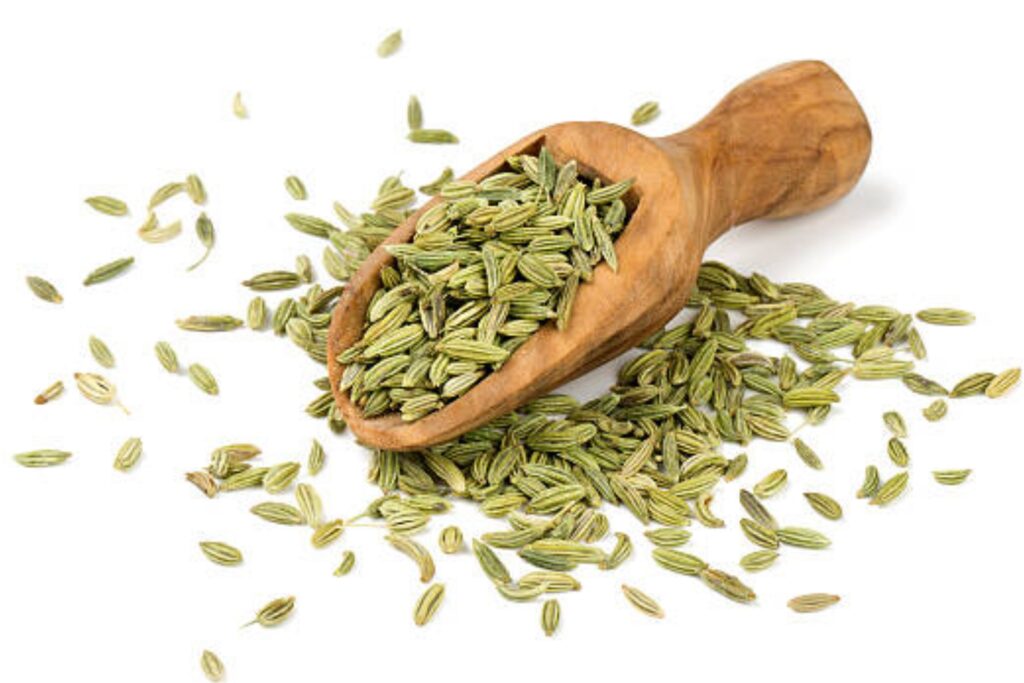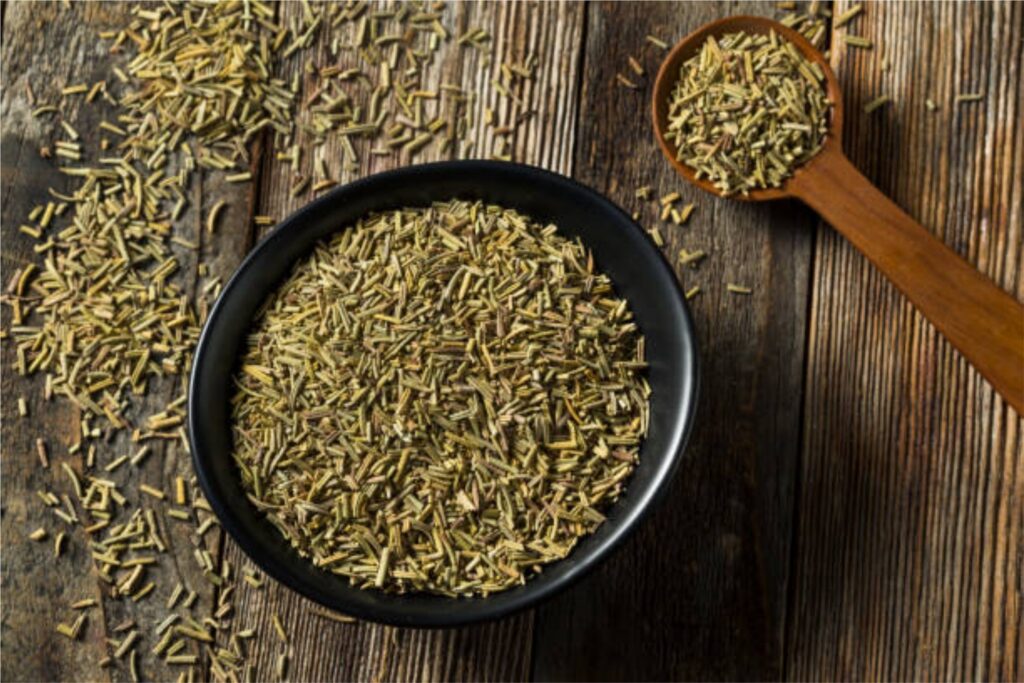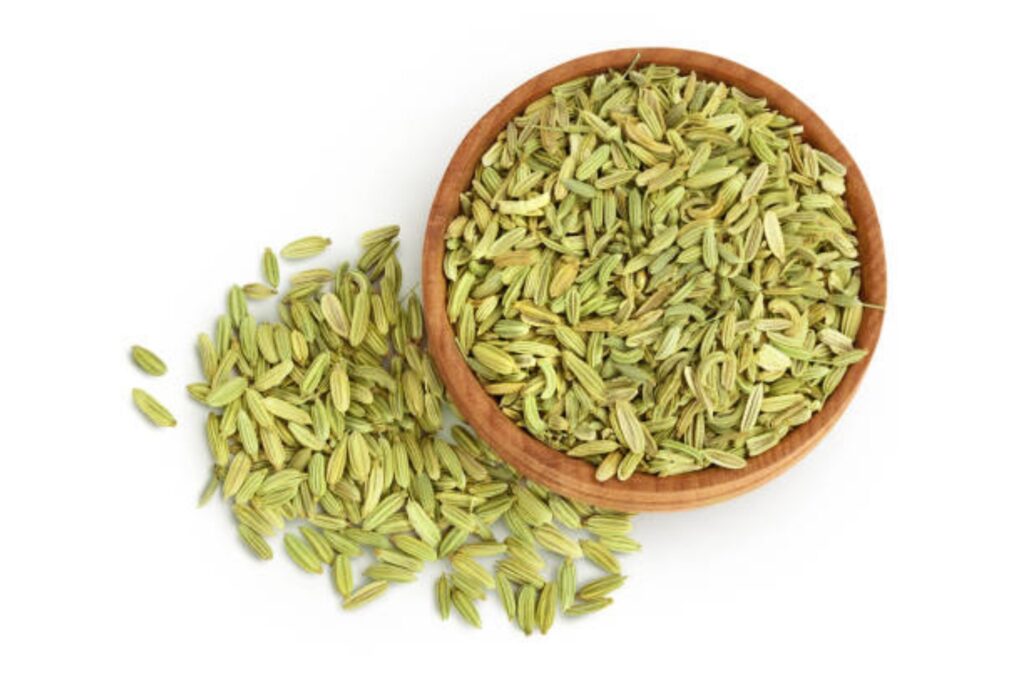 DESCRIPTION
It is a biennial, aromatic, stout, glabrous, 1.5 to 1.8 mtr high. The ripe fruit (seed) is small, oblong, cylindrical, 6.8mm long, straight or slightly curved, greenish yellow, deeply furrowed, 5 ridged and having agreeable aroma.
USES
The leaves of fennel is used for garnishing. Leaves and stalks are used in salads. It is an essential ingredient in Italian sausages, widely used to sprinkle on pizza. Dried fruits have fragrant odour and pleasant aromatic taste and therefore used as a masticatory. They are also used for flavouring soups, meat dishes, sauces, pastries, confectionaries and liquors. The fruits are aromatic, stimulant and carminative.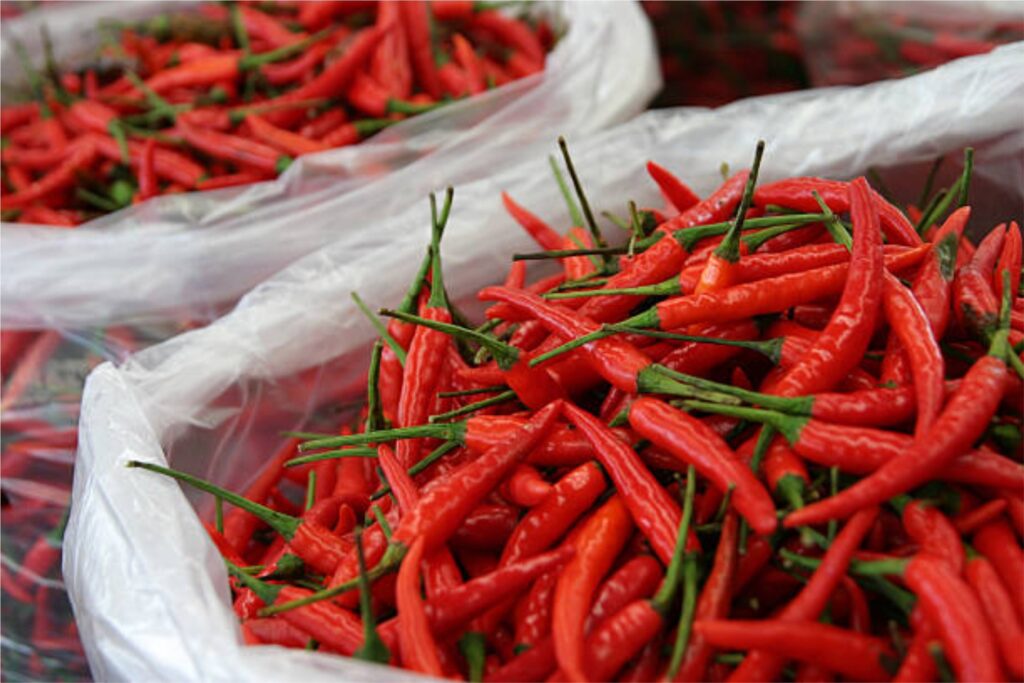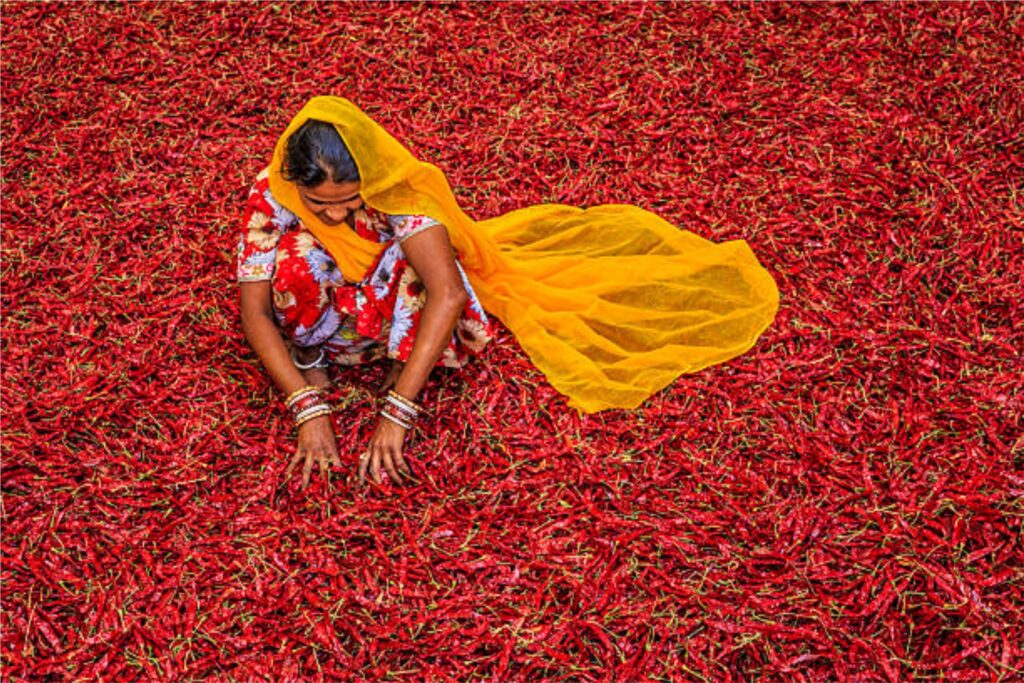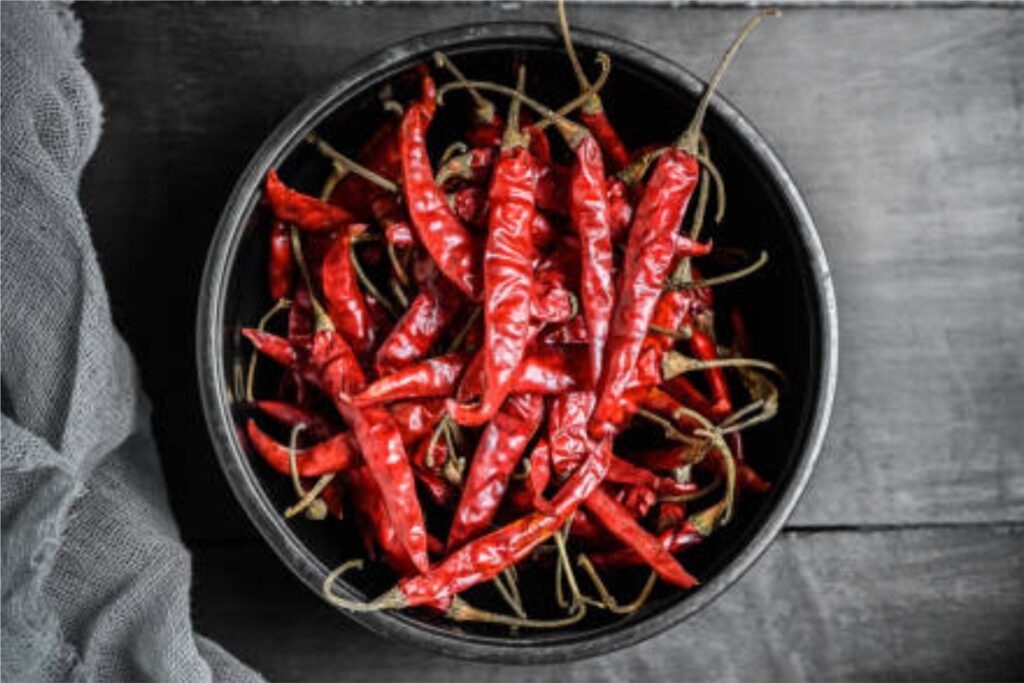 GUNTUR SANNAM-S4 TYPE
Grown in Guntur, Warangal, Khammam Districts of Andhra Pradesh, Skin thick, hot and red
Harvesting season – December to May
ASTA colour value- 32.11                                               Capsaicine-0.226%

DESCRIPTION

Chilli is the dried ripe fruit of the genus Capsicum. Capsicum annuum is an annual sub –shrub, the flowers of which are borne singly and fruits usually pendent, which provide red peppers, cayenne, paprika and chillies and sweet pepper (bell pepper) a mild form with large inflated fruits.

Capsicum frutescence is a perennial chilly with small sized pods which are highly pungent. It is commonly known as 'bird chilly' and 'Tabasco'.

USES

Dry chilly is extensively used as spice in curried dishes. It is also used as an ingredient in curry powder and in seasonings. Bird chilly is used in making hot sauces as pepper sauce and Tabsco sauce. Paprika, Bydagi chilly, Warangal chapatta and similar high colour less pungent varieties are widely used for colour extraction. This colour is highly popular among food and beverage processors for its use as a colourant, since this being a 'natural plant colour'. As a medicine it is used as an counter irritant in Lumbago, Neuralgia, and Rheumatic disorders. Capsicum has a tonic and carminative action. Taken inordinately it may cause gastro-enteritis. The enzyme isolated from chilly is used in the treatment of certain type of cancers. Oleoresin capsicum is used in pain balms and vaporubs. Dehydrated green chilly is a good source of vitamin 'c'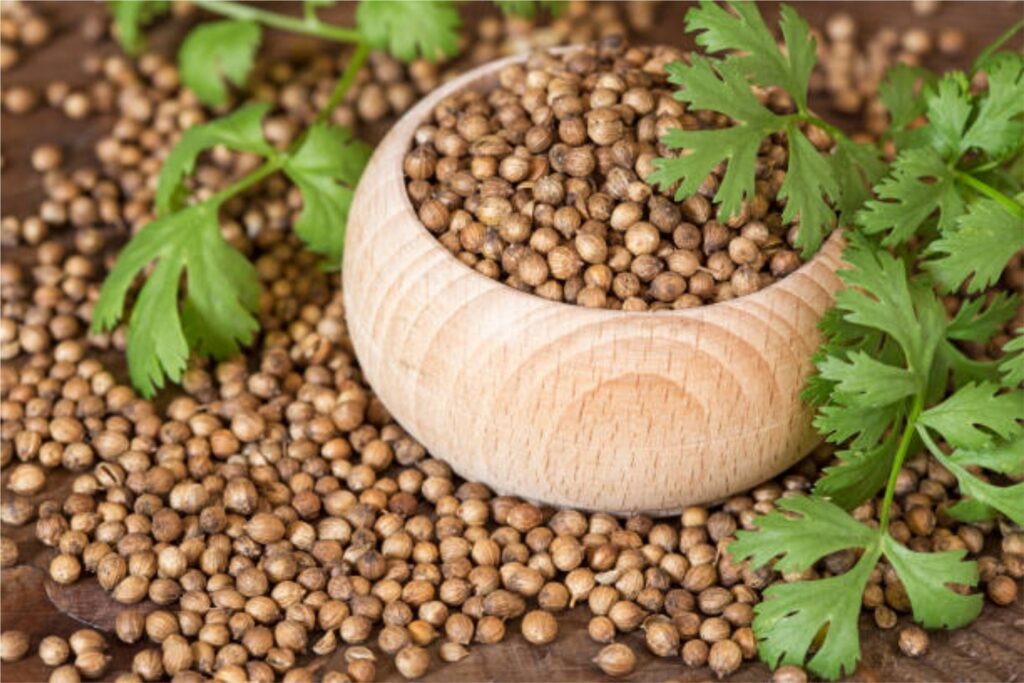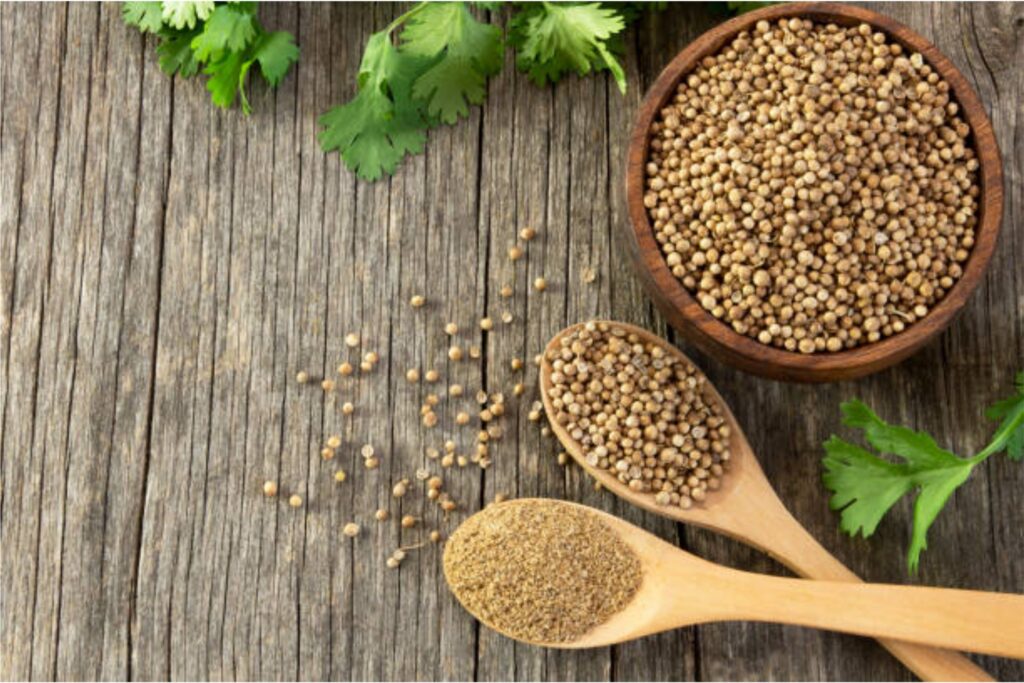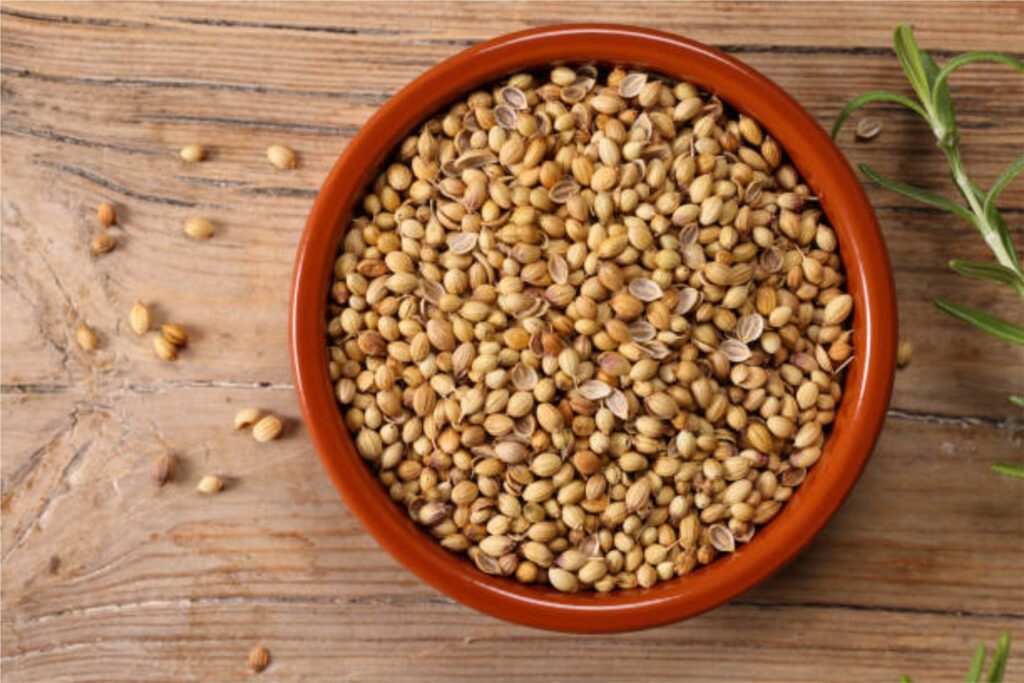 DESCRIPTION
Coriander is an important spice crop having a prime position in flavouring food. The plant is a thin stemmed, small, bushy herb, 25 to 50 cm in height with many branches and umbels. Leaves are alternate, compound. The whole plant has a pleasant aroma. Inflorescence is a compound umbel comprises 5 smaller umbels. Fruit is globular, 3 to 4 mm diameter, when pressed break into two locules each having one seed. Fruit has delicate fragrance; seeds are pale white to light brown in colour.
There are two distinct morphological types, one erect and tall with a comparatively stronger main shoot and the other bushy with a relatively weaker main shoot and longer spreading branches. 
USES
The young plant is used for flavouring and garnishing curries and soups. The fruits (seeds) are widely used as condiments with or without roasting in the preparation of curry powders, sausages and seasonings. It is an important ingredient in the manufacture of food flavourings, in bakery products, meat products, soda & syrups, puddings, candy preserves and liquors. In medicines it is used as a carminative, refrigerant, diuretic, and aphrodisiac. In household medicines, it is used against seasonal fever, stomach disorders, and nausea. Coriander oil and oleoresins are primarily used in seasonings for sausages and other meat products.