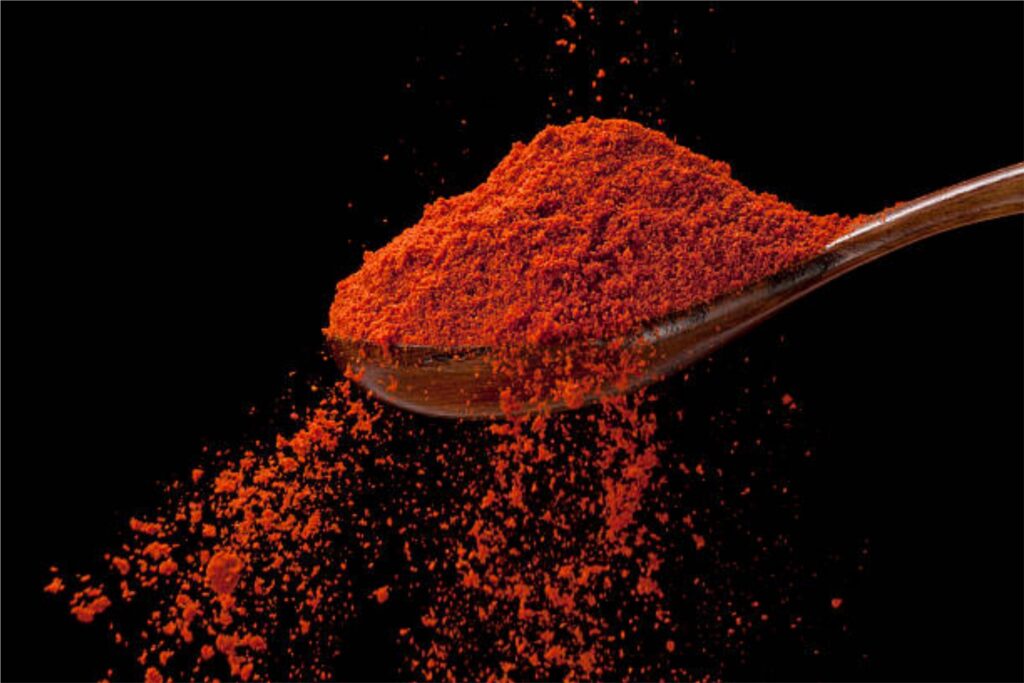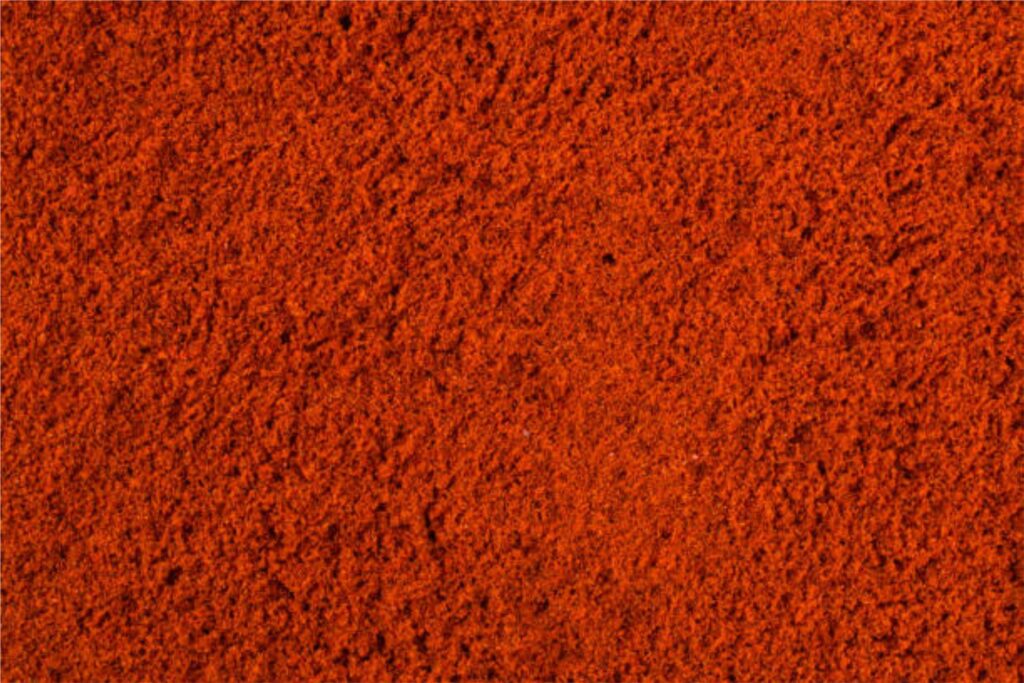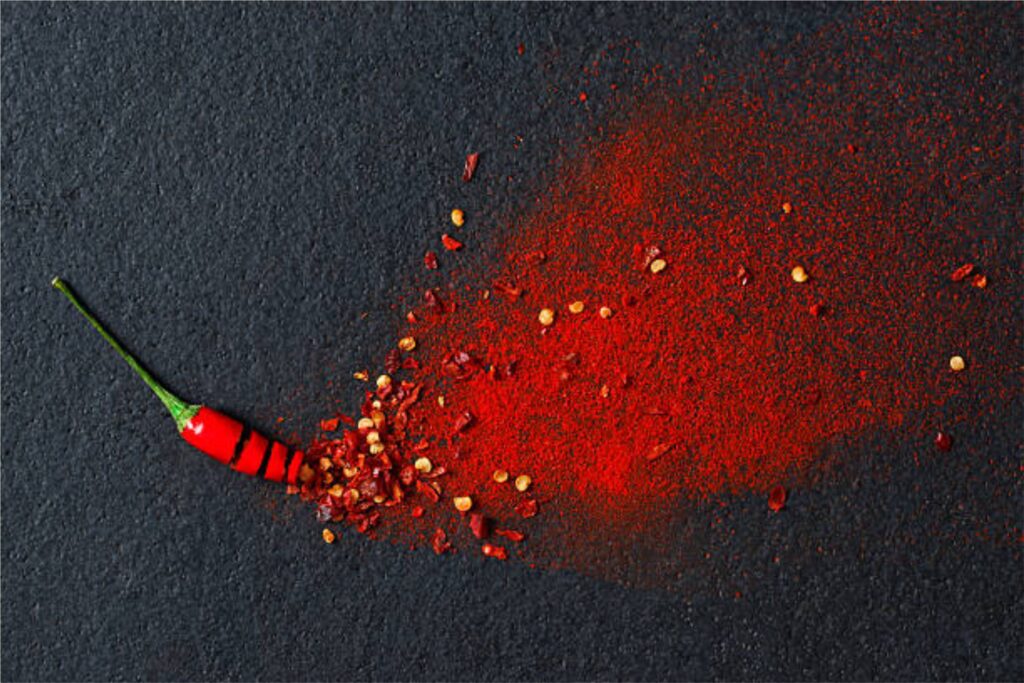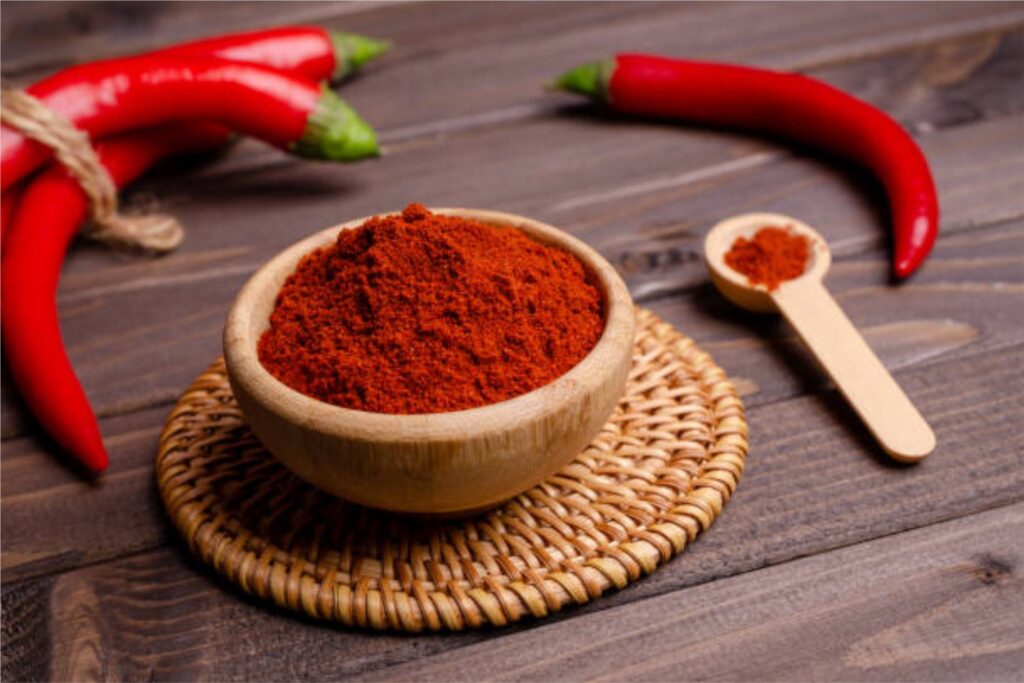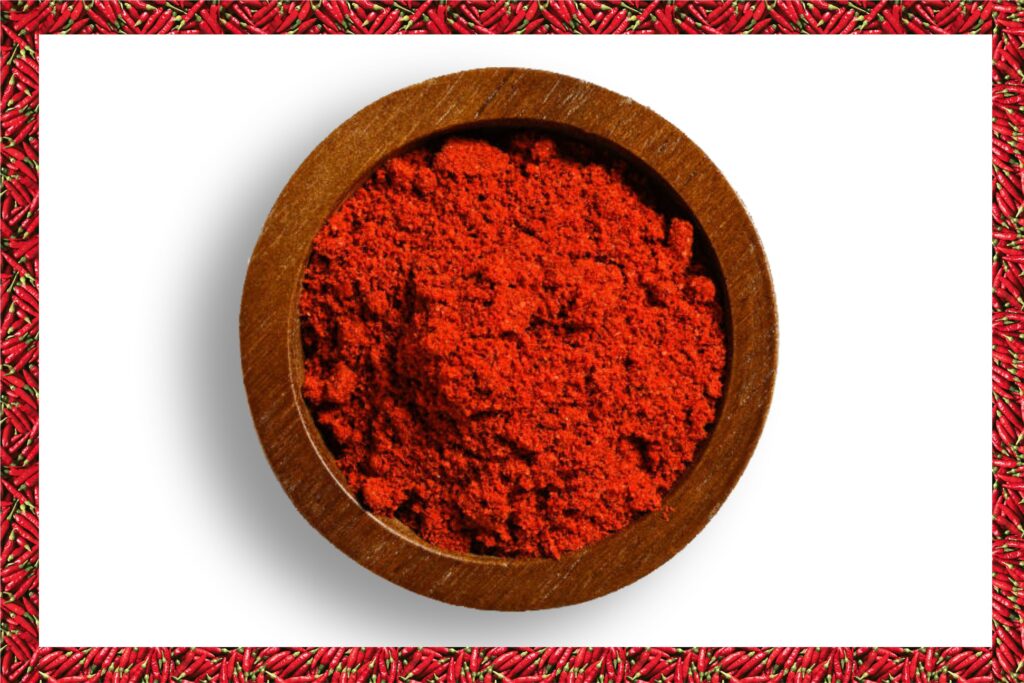 GUNTUR SANNAM-S4 TYPE
Grown in Guntur, Warangal, Khammam Districts of Andhra Pradesh, Skin thick, hot and red
Harvesting season – December to May
ASTA colour value- 32.11                                               Capsaicine-0.226%

DESCRIPTION

Pprocessed from special varieties of red, hot & spicy red chilies sourced from the best fields in India . It is mild-hot and gives glowing natural red color to your dishes making them attractive and more palatable.

The spicy taste of Indian food can be likened with the Paprika bearing Mexican cuisine that sets your palate on appetizing fire! Rara is a brand that has been well known for qualitative spices and spice mixes as well. This spice blend is one that brings in the fiery magic of red chilies, well known in India!

Enhance your Home kitchen with our Red Chili Powder. With Our Quality Indian Spices, We bring you feeling of the Indian kitchen.

USES

Red chilli powder is abundantly used in various regular to the exotic dishes.It adds texture, colour, spice and punch to the Indian food to enhance the taste, flavour and look of the dish. Catch Red Chilli powder is made by Low Temperature Grinding Technology. The raw material is sourced from the prime spice growing farms of of Guntur(Andhra Pradesh) & Byadigi (Karnataka), which not only makes the food taste good, but also provides health benefits. It is an important ingredient for preparing chutneys, curries, gravies and sauces.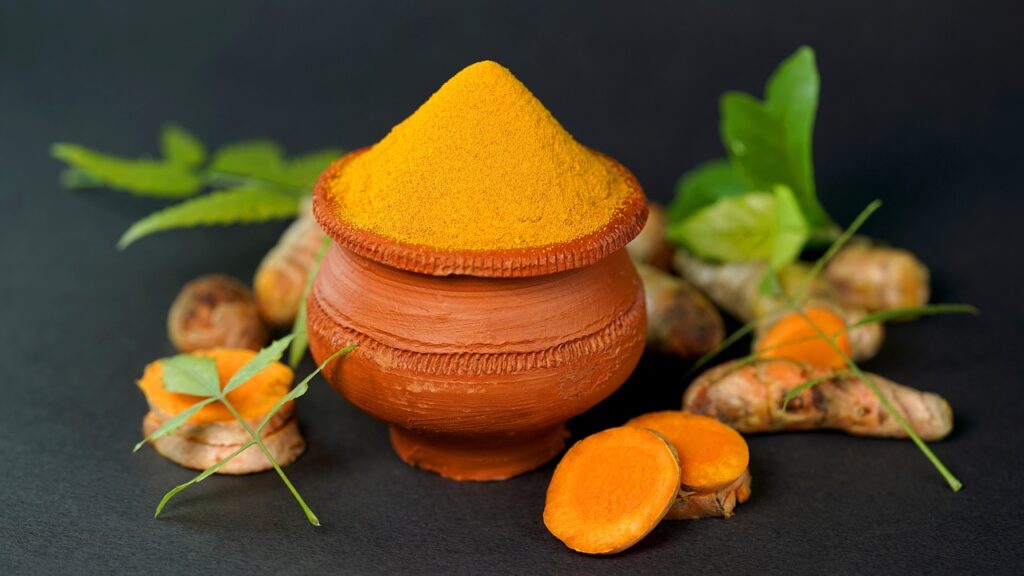 DESCRIPTION

Turmeric Powder is well-known for its bright yellow color and used as a coloring agent Turmeric is used extensively in Indian dishes. Turmeric has also originated application in canned beverages, dairy products, baked products, yogurt, ice cream, and biscuits.

Enhance your Home kitchen with our Turmeric powder. With Our Quality Indian Spices, We bring you feeling of the Indian kitchen.

USES

Turmeric is used to flavour and to colour foodstuffs. It is a principal ingredient in curry powder. Turmeric oleoresin is used in brine pickles and to some extent in mayonnaise and relish formulations, non-alcoholic beverages, gelatins, butter and cheese etc. The colour curcumin extracted from turmeric is used as a colourant. Turmeric is also used as a dye in textile industry. It is used in the preparation of medicinal oils, ointments and poultice. It is stomachic, carminative, tonic, blood purifier and an antiseptic. It is used in cosmetics. The aqueous extracts has biopesticidal properties.

ORIGIN AND DISTRIBUTION

Turmeric is the boiled, dried, cleaned and polished rhizomes of Curcuma longa. The plant is a herbaceous perennial, 60-90 cm high, with a short stem and tufted leaf. There are 7 to 12 leaves, the leaf sheaths forms the pseudo stem. The lamina is green above and pale green below and has a length of 30-40 cm and width 8-12 cm. Inflorescence is a central spike of 10-15 cm length. 1-4 flowers are born in axil of the bract opening one at a time. About 30 flowers are produced in a spike. Seeds are produced in capsules and there will be one to numerous sunken capsules in an inflorescence. Turmeric is a tropical crop cultivated from sea level to 1200 meter MSL. It grows in light black, black clayey loams and red soils in irrigated and rainfed conditions. The crop cannot stand water logging or alkalinity.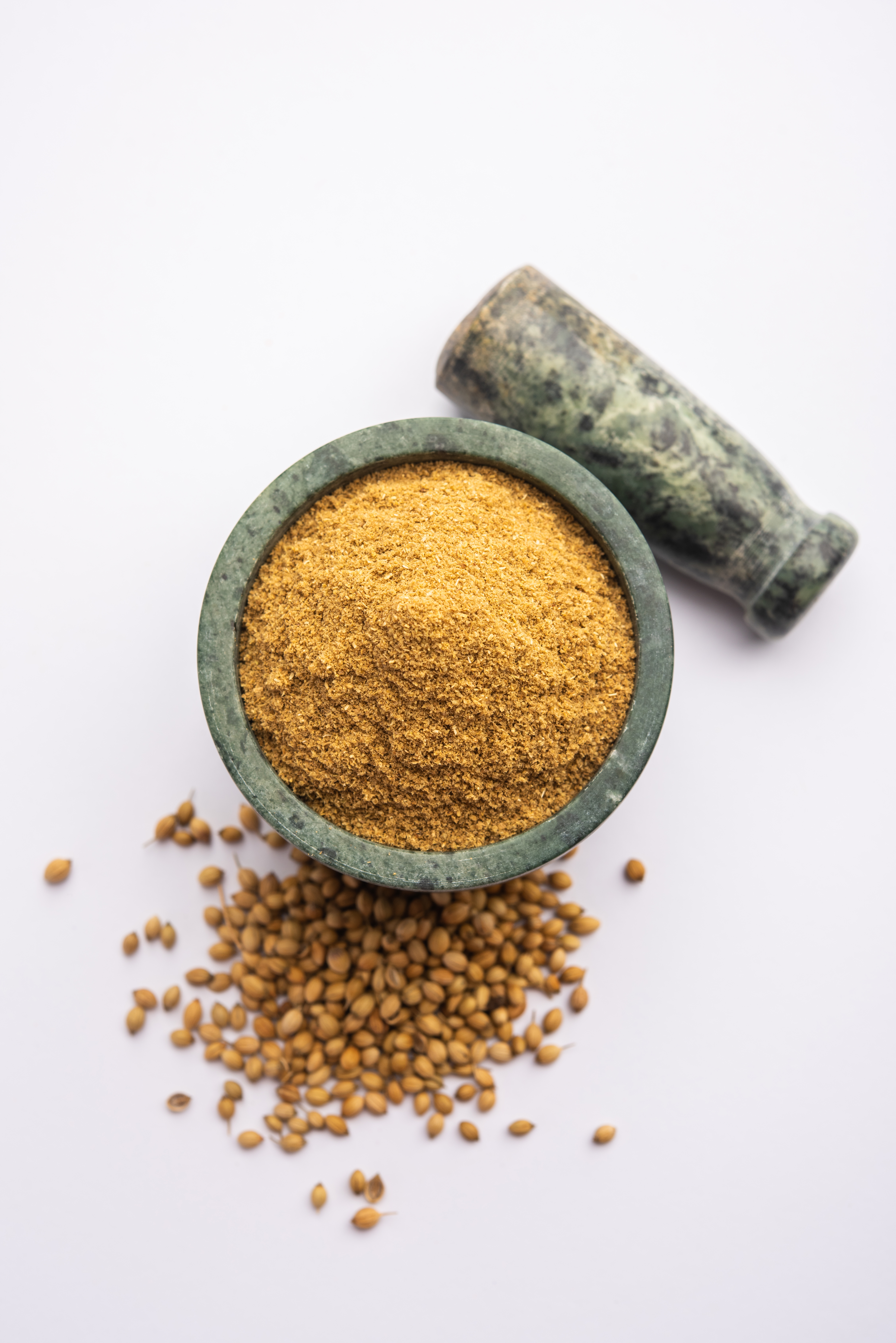 DESCRIPTION

Coriander is an important spice crop having a prime position in flavouring food. The plant is a thin stemmed, small, bushy herb, 25 to 50 cm in height with many branches and umbels. Leaves are alternate, compound. The whole plant has a pleasant aroma. Inflorescence is a compound umbel comprises 5 smaller umbels. Fruit is globular, 3 to 4 mm diameter, when pressed break into two locules each having one seed. Fruit has delicate fragrance; seeds are pale white to light brown in colour.

There are two distinct morphological types, one erect and tall with a comparatively stronger main shoot and the other bushy with a relatively weaker main shoot and longer spreading branches.

USES


The young plant is used for flavouring and garnishing curries and soups. The fruits (seeds) are widely used as condiments with or without roasting in the preparation of curry powders, sausages and seasonings. It is an important ingredient in the manufacture of food flavourings, in bakery products, meat products, soda & syrups, puddings, candy preserves and liquors. In medicines it is used as a carminative, refrigerant, diuretic, and aphrodisiac. In household medicines, it is used against seasonal fever, stomach disorders, and nausea. Coriander oil and oleoresins are primarily used in seasonings for sausages and other meat products.

ORIGIN AND DISTRIBUTION

It is a native of Mediterranean and commercially produced in India, Morocco, Russia, East European countries, France, Central America, Mexico, and USA. Coriander is a tropical crop and can be successfully cultivated as a rabi season crop in an area free from severe frost during February when the crop flowers and sets its seeds.